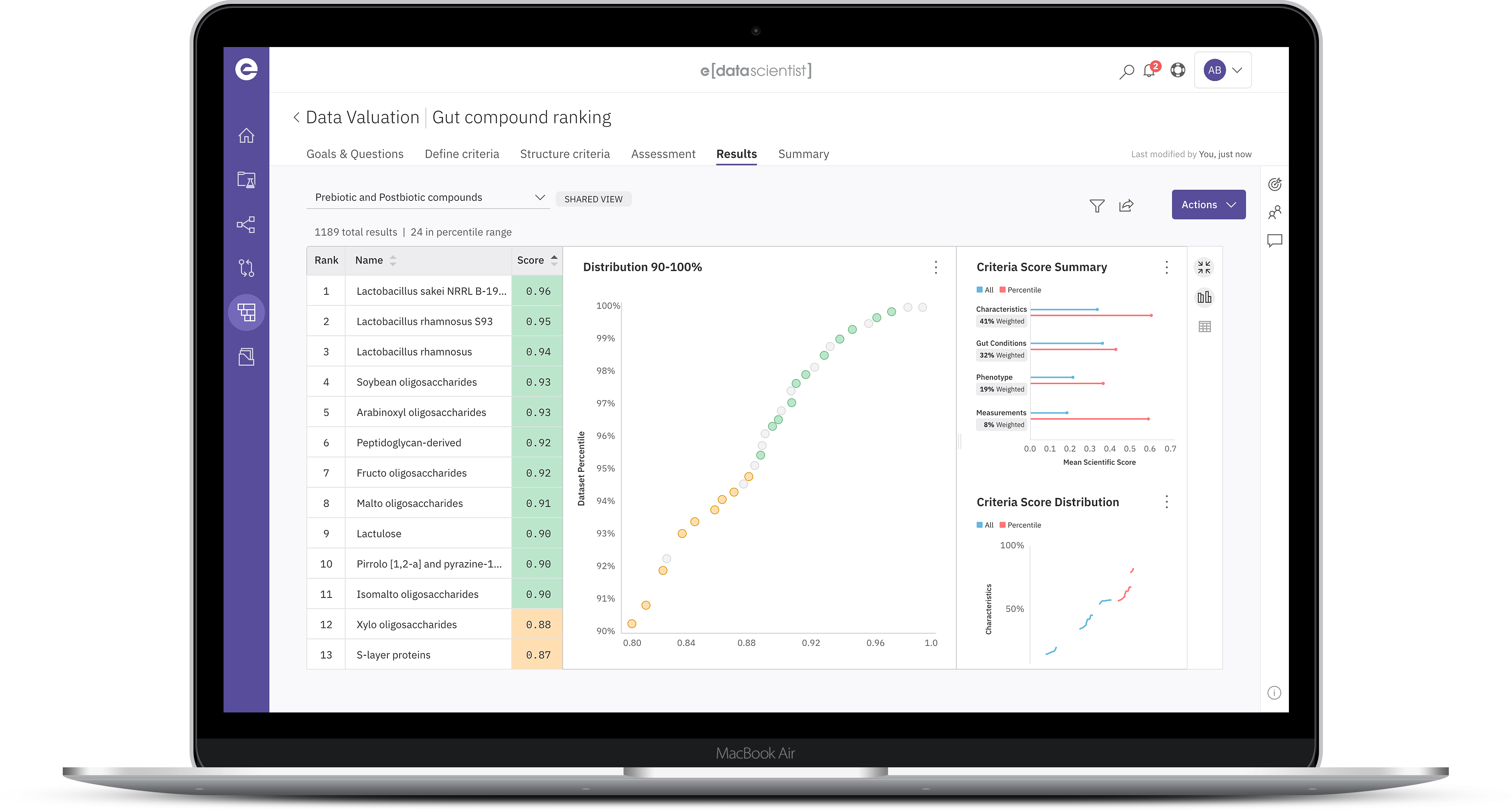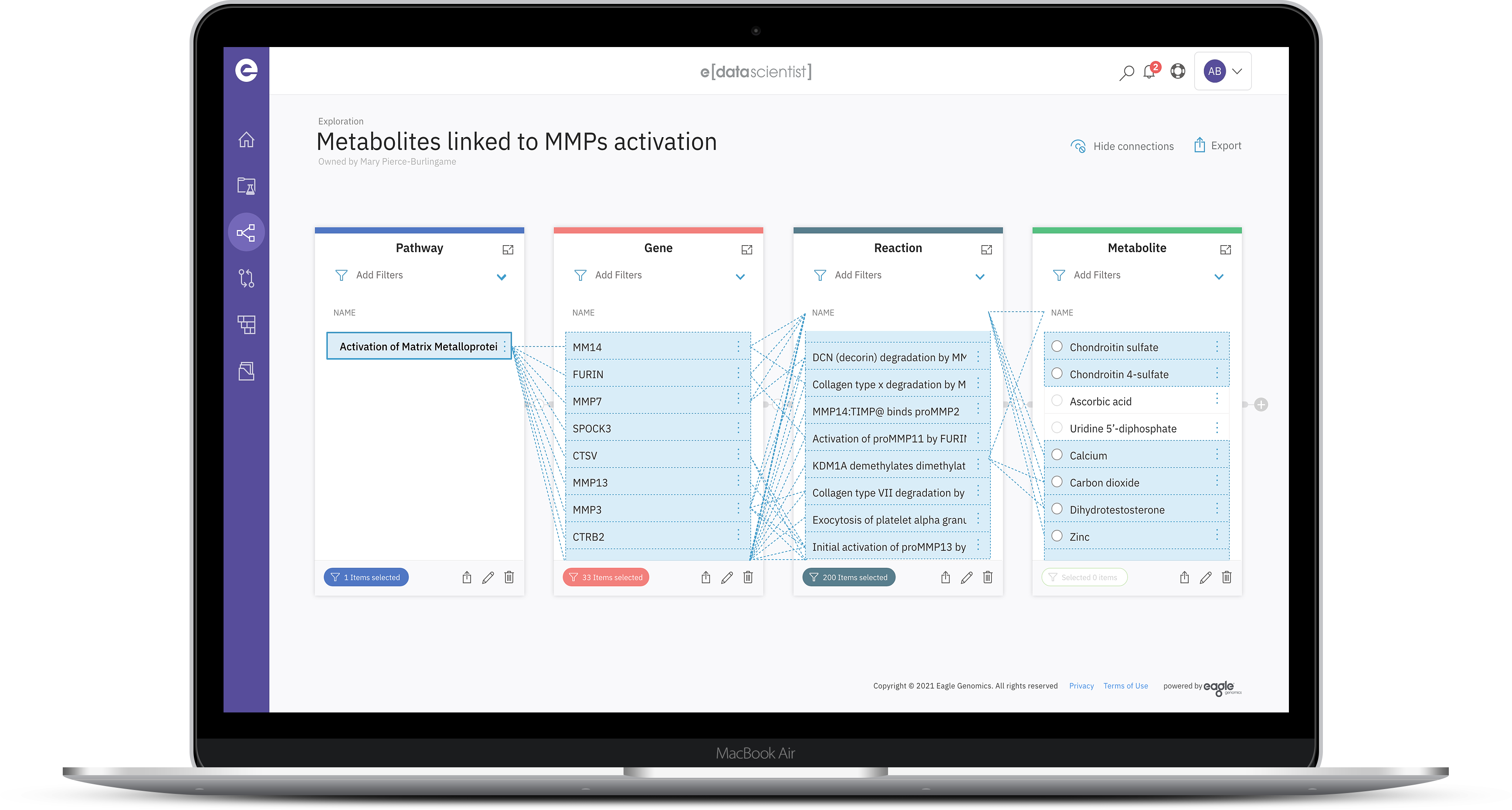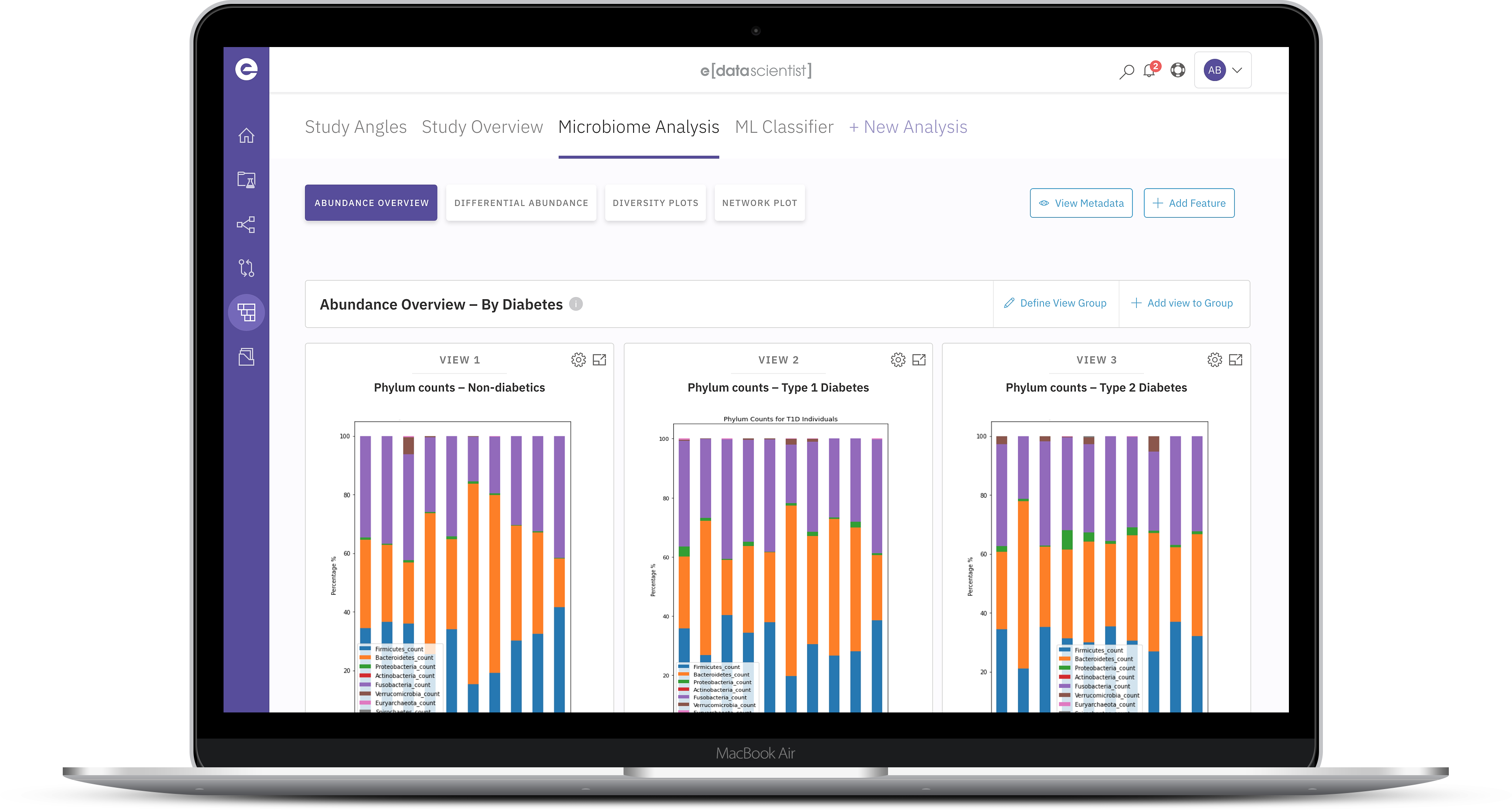 Uncover the value of data
Data value is context-specific and defined by use. Fundamentally, the value of data is characterized by whether its availability would result in a change of decision. Data valuation is a collaborative and conversational process between multiple stakeholders.
Research organizations struggle to assess the value and reliability of an ever-increasing array of knowledge and data assets, applied to the scientific endeavor. Without a systematic framework for ranking data assets in a particular context, the decision-making process is ad hoc, often influenced by the loudest voice in the room.
Life scientists seeking to exploit and explore data are missing opportunities through the inability to share and reuse previously validated work and knowledge assets, at much cost to the enterprise.
e[valuation] instantiates a game-changing collaboration framework to deliver a range of applications, including cohort selection, target prioritization and automated curation to promote understanding of the validity and importance of data, linking business and scientific stakeholders.
Create data valuation models for selection, prioritization and optimization of data and knowledge entity relationships

Establish consistent, explainable and referenceable valuation standards, fit-for-purpose in the evaluation of very large networks of data

Calibrate, manage, extend and reuse data valuation models based on research goals and ambitions

Apply valuation models to datasets to rank and prioritize data, test hypotheses, visualize and export models and results

Integrate with other e[datascientist] applications to orchestrate a range of workflows and analyses
Simplify and standardize the interpretation of highly dimensional and complex constellations of data

Drive cross-enterprise standards and best practices in multi-criteria decision making, achieving concordance across R&D

Elicit and calibrate expert-led (bayesian) prior data valuation models

Transform and accelerate data-driven experimentation to drive reliable and trusted in silico outcomes

Translate the tacit knowledge of individuals and teams into organizational intelligence, knowledge and intellectual property
Innovating for a better future
Eagle Genomics' innovative approach in establishing a platform-driven ecosystem for the generation and exchange of scientific data-derived assets is of great potential value to Unilever.
Healthy animals, healthy people and a healthy planet are all interconnected. With the advanced knowledge and insights we anticipate generating from our microbiome data, the e[datascientist] will allow us to bring more relevant products to market.
As a company driven by innovation, Reckitt collaborates with partners who bring powerful new capabilities to the table so we can deliver disruptive ideas to the market.