Celebrating 10 years of Eagle Genomics
Last week, staff and friends of Eagle Genomics celebrated the 10th Anniversary of the company!

Eagle Genomics was founded in 2008 by Abel Ureta-Vital and Will Spooner amidst growing opportunities in genomics and 'big data', enabled by next generation sequencing and leading-edge cloud computing technology.
Eagle is named after the pub in Cambridge where in 1953, scientists announced they had found the 'secret of life' - discovering the DNA double helix. Since 2008, the company has expanded and made its home at the Wellcome Genome Campus, Cambridge.
The celebrations began on campus in the BioData Innovation Centre, with a talk from founder Abel Ureta-Vital and CEO Anthony Finbow, followed by coffee and cake attended by both Eagle staff and friends of the company from the Wellcome Genome Campus.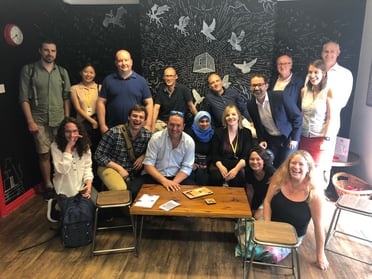 The next stop was Cambridge Escape Rooms where staff were put to the test, using their puzzle solving skills to escape from a locked room and we're proud to say the teams were (mostly!) successful!
Celebrations concluded with an evening at the Varsity hotel in Cambridge, where employees past and present gathered to celebrate Eagle's 10 year anniversary with drinks and a meal.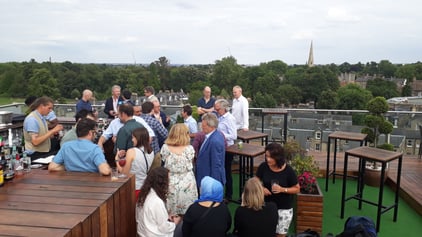 Eagle now looks forward to the next ten years and beyond, continuing to enable the digital reinvention of life sciences and encouraging discovery through data research.
Go Back
---