Sun, Sea and Science at the Elixir SME Forum, Barcelona
Elixir

is truly ramping up engagement with SMEs across Europe this year, with not one, not two, but four

SME forums

in 2017. I sadly missed the first one in Helsinki in February, but I was not going to miss the second one in Barcelona on June 6th and 7th! I was kindly invited to join a panel discussion on "How can open data accelerate innovation?". And when one can combine business and leisure, there was no excuse. Indeed I managed to catch up with friends and family and enjoy a taste of early summer in this fantastic Olympic city near the sea.

During the forum, Alfonso Valencia shared how the INB (

Instituto Nacional de Bioinformática

) is scaling up its involvement in the coordination of

Elixir-Spain

. The Elixir project seems to provide a very good incentive to get the Spanish bioinformatics resources reorganised with some movement of people and capabilities, for maximum impact, which is very good thing. As an example, Alfonso Valencia, one of the INB directors and a veteran of the Spanish bioinformatics community iscurrently moving his team from Madrid to

the

Barcelona Supercomputing Center

. Their supercomputer has the most unusual home at the chapel

Torre Girona

, a 19th-Century church building. What an inspired place to offer a "cold" machine a soul! I did not have time for a visit, but next time, I'll make sure to ask for one to Josep Lluis Gelpi, INB Team Leader, who I met during the SME forum.

In the panel discussion, I contributed to the never ending controversial debate about the blurred boundaries between academia and industry remits, when sometimes they step on each other toes and other times work in synergy, as it should be. I pushed the debate about health data wondering why some of us consider it different and more revealing about ourselves than any data we happily share on social media that is as intimate and revealing, if not more. My argument was if I'm the owner of my social data and happy to provide access to it willingly to corporations such as LinkedIn, Facebook, Google, Twitter, why can't I be given the same freedom with my health data through similar technology platforms? A very good and "heated" discussion ensued.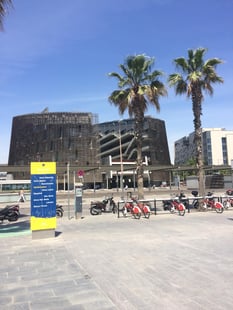 The SME forum took place at the

PRBB

, (Barcelona Biomedical Research Park) home of 7 great and complementary organisations. Close to my heart and area of expertise is the

CRG

that has been at the forefront of many cutting edge genomics research since 2000 in the ramp up of the human genome project, and the newly established

EMBL outstation

.

Look at this building (right), and its location at the centre of this fantastic city and just 200 yards from the beach , the perfect environment to attract incredible talent from around the world, perfect for serendipity to spread free and foster innovation!

After a well deserved summer break, I'm looking forward to the next Elixir SME forums in October (Brussels) and November (Paris)!
Go Back
---