Starting our Microsoft ScaleUp adventure
We're excited to announce that Eagle Genomics is one of 12 companies selected from 300 to be part of Cohort 9 of the Microsoft ScaleUp program.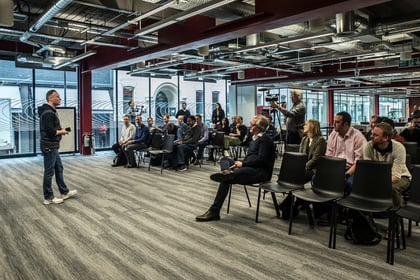 Microsoft ScaleUp is a global initiative recognising the most promising start-ups, offering support to help them scale their business/technologies to new markets. The program has an impressive success rate, with 2017 figures showing, on average, a 400% valuation increase for each participating company. This year Microsoft selected 12 businesses from the 300 that applied, looking for fast growth enterprise software companies with the right mentality to succeed. We're proud that the ambition of our team and our product vision were recognised and we are very excited to be one of the final twelve selected.
As part of the program, Microsoft will provide us with technical and business resources, strategy advice and market expansion tools, as well as co-sell opportunities within the global Microsoft customer network.
Our admission onto the ScaleUp program is timely; we are seeing strong demand for our smart knowledge discovery platform as enterprise customers in the personal care, biotech and pharma industries embrace the digital reinvention of life sciences R&D. The adoption of the e[automateddatascientist] to accelerate new scientific insight is generating big data and with it big compute challenges, something we're looking forward to tackling with Microsoft.
The induction launched this week and it's been great connecting with our fellow cohort members, each offering a solution with the potential to hugely disrupt their respective industries. There has been some great learning already (a memorable moment being asked to operatically sing our business story in order to be more animated while presenting...!) and we're looking forward to the rest of the curriculum.
ScaleUp is based at the new London Microsoft Reactor in Shoreditch, which offers the perfect creative environment and resources for tech start-ups looking to rapidly scale. This happily coincides with our search for a London office and will be our new base in the capital.
To get Microsoft's perspective on the new cohort, read this blog from Kevin Monserrat, VC & Dealflow Manager at Microsoft Scale-up.
Go Back
---