eaglediscover wins Bio-IT World 'Best of Show' award
Eagle Genomics, the life sciences smart data management company, has been recognised by the Bio-IT World Conference & Expo 2016 with a "Best of Show" award for its eaglediscover product, launched and showcased at the conference. The award recognises the top innovative product solutions for the life sciences industry.
"We are tremendously excited and honored to be recognized at Bio-IT World with the prestigious Best of Show Award" said Abel Ureta-Vidal, Founder and CEO of Eagle Genomics Ltd.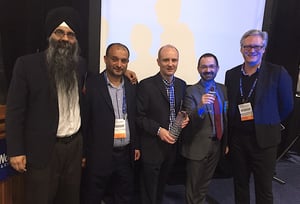 Eagle Genomics showcased the eaglediscover product, demonstrating novel insight on the world's largest public cancer patient records, the International Cancer Genome Consortium data. ICGC is a public resource used globally by scientists to understand and find cures for cancer. Eagle Genomics' analysis enabled a ranking of the most valuable projects according to their scientific value.
The eaglediscover product objectively measures the value of data assets as defined by their usefulness and relevance. The approach exploits quantitative and probabilistic techniques and conversation theory to enable a novel question-driven approach, allowing scientists to explore scientific value across diverse data sets as never previously possible.
A strong and diverse panel of experts drawn from academia and industry judged Best of Show applications. This year, the panel included Michael Barmada, University of Pittsburgh; Catherine Brownstein, Boston Children's Hospital; Joe Cerro, BostonCIO; Chris Dwan, Broad Institute; Martin Gollery, Tahoe Informatics; Richard Holland, New Forest Ventures; Eleanor Howe, Broad Institute; Alan Louie, IDC; Aaron Krol, Bio-IT World; Phillips Kuhl, Cambridge Innovation Institute; Katya Mantrova, Independent Consultant; Jerald Schindler, Merck; Alex Sherman, Massachusetts General Hospital; and Allison Proffitt, Bio-IT World's Editorial Director.
"This year saw a record number of applications and technologies for the Best of Show Award," said Allison Proffitt, Bio-IT World's Editorial Director. "The award recognizes breakthrough innovations by leading vendors in the industry, and this year's winners represent technologies that particularly impressed our judges."
Go Back
---